This post has already been read 2402 times!
Ronnie Leadbitter writes: To aid closing I have recently fitted two internal handles to the sliding door of my Murvi Morello which I am sure will adapt to other van conversions and thought others may be interested: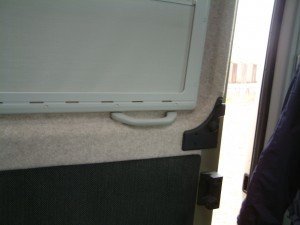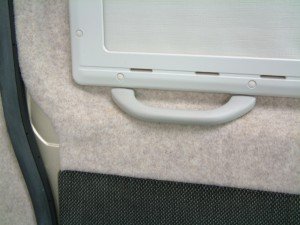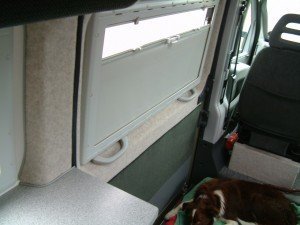 To aid closing of van conversion sliding door,
Using two soft closing grab handles (without coat hooks) from a Volkswagen Passat (2006),  bought for five pounds from a breakers yard.
Remove roller blind cassette from window, make cardboard template of hole centres, drill four
 (two per handle)  7mm holes in sloping section of door. I then fitted the four  5mm captive nuts, for this I used a Wurth rivet nut thread setter, borrowed from my friendly local garage, next, cut off the raised stepped section from the back of the grab handles to ensure they clear the blind cassette and secure to door with 30 x 5mm stainless allen studs. The positioning of the handles is critical so they clear the side of the van when opening, on my van I have approx. 10mm clearance. refit blind cassette, bravo! No more wwwwhooooosh crash when closing.
I am very pleased with this system as the door is so easy to close with a single inward pull to the latch end (rear) of the door and they look neat!!  When closing from outside it is best to slide the door into a near closed position and with a firm push at the rear end of the door, the door will latch easily. No more waking a whole campsite when entering or exiting. Ronnie Leadbitter