This post has already been read 815 times!
Well, having had further Lockdown restrictions imposed while in Morpeth and before we get locked up , we decided to escape across country. Albeit, sometimes in the county of Durham but we all know we don't have to worry about being reported to the Durham Constabulary by neighbouring campers for a breach of the peace there, as nothing will happen even if we are thought to be minglin'. Thanks Carolyn and who also assured us our Precious Pets don't count in a group of 6. Are you sure? One cough from Larry or Palmerston, the Downing Street cats and this could all change…bit of trouble there too with test, track, trace, paws, face, space, mouse, whack a mouse…whatever. Dido couldn't possibly foresee this.
We don't think we're the only ones not being able too keep up with, let alone understand the rules, so we felt fairly okay and anyway we're heading for the middle of nowhere, surrounded by the most beautiful countryside of Northumberland, Durham and Cumbria. Albeit, all of them now with tighter restrictions.
We have decided to swap our England Coastal routes to travel across country for the long distance walking routes of Hadrian's Wall, The Pennine Way and the Tyneside Trails.
Hadrian's wall
First stop , Cawfields nearly half way along Hadrian's wall . So off we go for an afternoon stroll to the highest point on the wall and the half way mark.
Eh? Wrong wall Lin.
Lin at Cawfields Lake.
Part of Hadrians wall along here was knocked down when they wanted to excavate a quarry and probably now part of a village house, pub or shop!
"Stretching 73 miles (80 Roman miles) across the country from Wallsend in the east to Bowness on the Solway Firth, Hadrian's Wall was built under the orders of Emperor Hadrian in AD122. Taking over 6 years to build, the wall boasted 80 milecastles, 17 larger forts and a defensive earthwork, the Vallum, to the south." : all too keep out the barbarians from the North. Now centuries later Nicola is trying to keep them in, but her clicky pen and the ballot box, at the moment, seem no mightier than the sword .
This is it! Phin sitting at the highest point and half way mark with the Crags in the distance.
For those who would like to visit but not walk, there is an Hadrian's Wall bus!
And so onto our campsite.
We based ourselves at the Camping and Caravan site at Greenriggs Cottage with the most delightful owners who told us "not to follow the Sat. Nav. as even the tractors don't go there." Absolutely lovely and good for ' dark skies' .
We just love being 'Billy No Mates' . Our site , four miles in the hills from Featherstone .
The Pennine Way, which stretches for 268 miles from Edale in the Derbyshire Peak District and ends just in Scotland at Kirk Yetholm , was one of several routes ventured upon while walking the many footpaths from the campsite.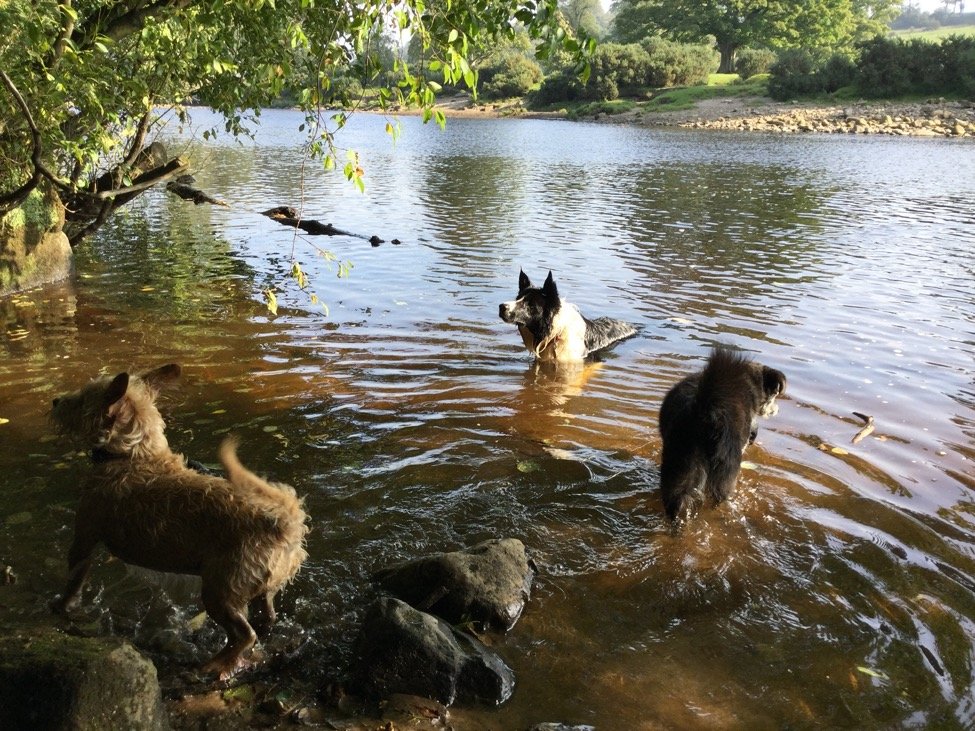 The River Tyne Trail provided a super, circular walk along a river and on old disused railway track. A really beautiful walk along the River Tyne which the dogs loved and which had lots of different points of interest.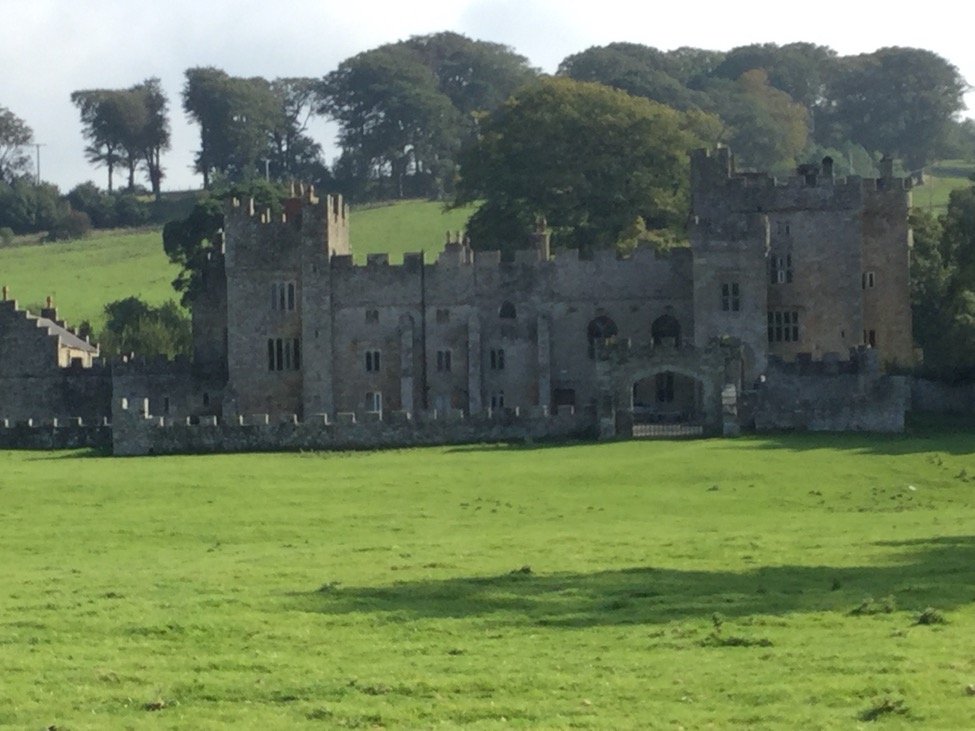 Featherstone Castle… a good place to stop for a break by the river bank.
And the remarkable viaduct built in the 1800's to carry the railway mainly built for industrial use and which the locals soon cottoned onto for a ride into town.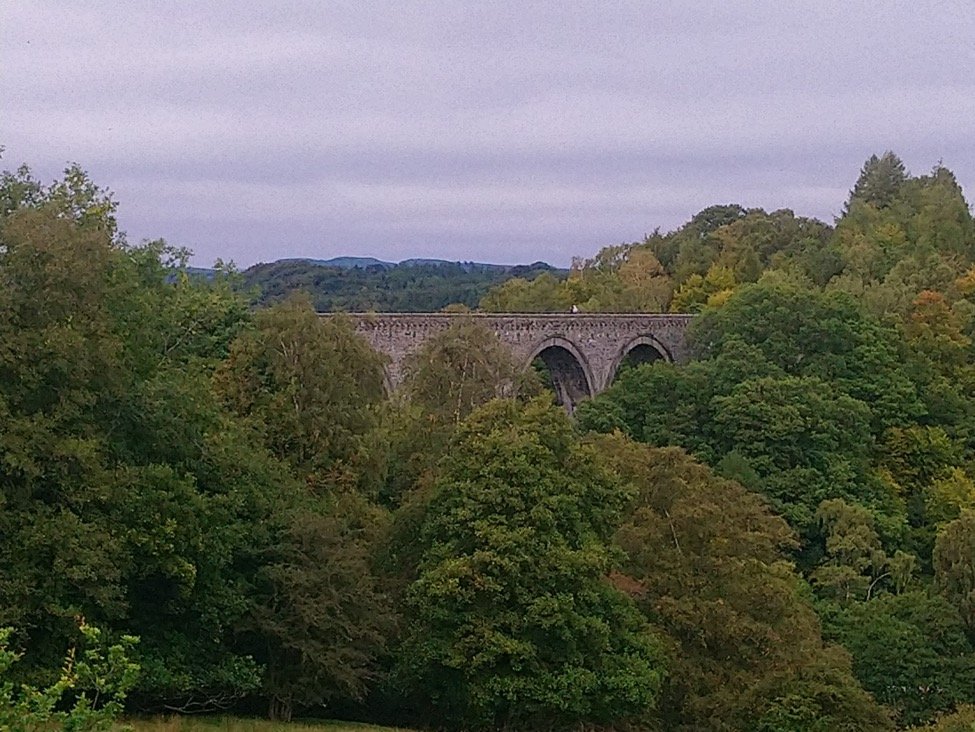 Also along the way was Featherstone weir and the remains of the Prisoner of War Camp No.13, for Italians and then later for German officers from about 1944 to its closure in 1948. The Trail then goes up onto the disused railway line to go over the viaduct.
Up until 1976 the train ran from Alston to Haltwhistle. The line, like so many other local lines was scheduled for the chop under Dr Axe Beeching, but fortunately due to the lack of an all weather road, it was kept open. Then later, Ribble Motor bus services moved in on 'an opportunity' and that was that. Now restored by train enthusiasts of the Southern Tyneside Railway, there is a 5 mile stretch from Alston to Slaggyford .(It takes its name from Olde English, meaning, muddy, dirty ford.)
We visited Alston, one of the highest market towns in England hoping to visit the train and listed as being " steep, unique and chock-full of charm!" Well, the first part was true, but worst of all, the Railway we went there for, was closed.
To be honest, it really was one of those days. We all have them, don't we ?
First, Lina had managed to lose the finished blog into the ether, this being the re-write having already lost the original. This was a bit of a double whammy as she had already eaten Two big jam do-nuts , as comfort food one after the other, in response to the first time and there were none left.
Second , no railway open which we hadn't checked as we usually do, and Alston, not quite up to the mark.
Third, our destination of Cow Green Resevoir and Cauldron Snout, our intended circular walk for the day, never happened. The small lane leading there was closed and the diversion which we eventually found after going up and down the road a while, wouldn't have taken a pony, let alone the Trap. http://www.gps-routes.co.uk/routes/home.nsf/RoutesLinksWalks/cow-green-reservoir-and-cauldron-snout-walking-route
So we went on down the road to High Force… which was then extra full because of the Cow Green and Cauldron Snout road being closed.
Next, the alarm on the van kept going off , in the very crowded car park, every time we left to head off across the fields, usually waiting until we had walked about 500 yards. The culprit being an open window we hadn't noticed.
Next, the battery ran out on the I-Pad with the map Wend was following and Lin had to rescue her and collect her in the van to save a long walk along the main road with the dogs. We had too, of course ,left our portable charger packs at home
. https://www.thisisdurham.com/things-to-do/may-the-forces-be-with-you-a-walk-around-low-and-high-force-waterfalls-p672681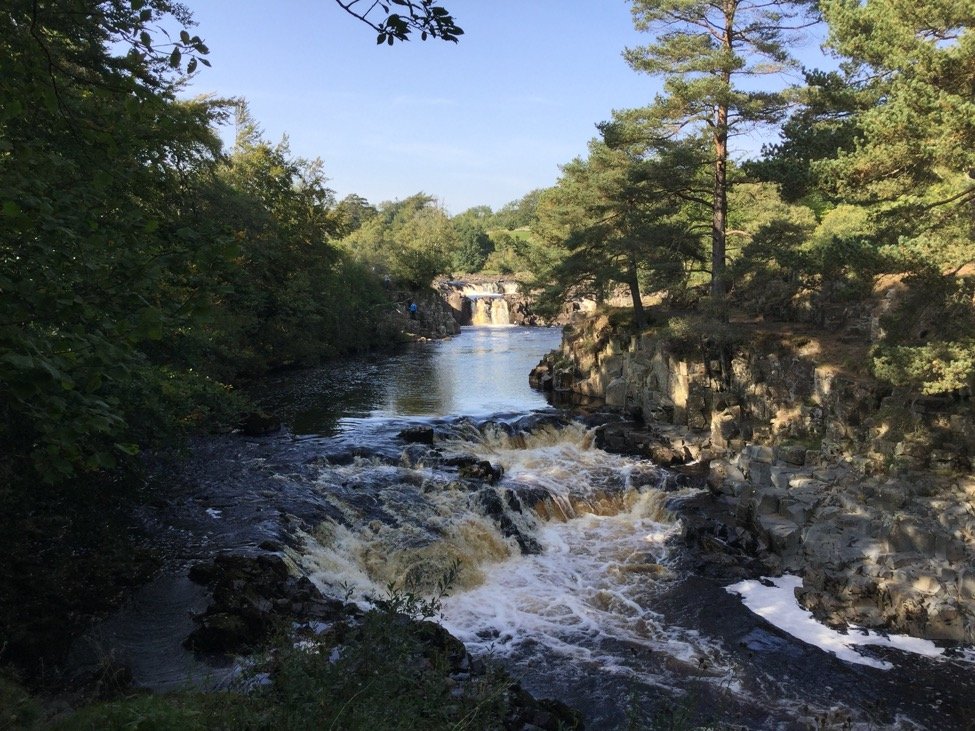 But not before she reached Lower Force.
We do now thank goodness for our digital O.S maps . We know we are a bit late to the party with this as many Murvi Club members have been using them for years, but "thank you", to Wells-next -the Sea , who finally made us relinquish our paper ones. Now we can cheerfully plot a walking route and be told distance, how hilly , time it takes, where we are as we walk, etc all very splendid. Okay, maybe it doesn't tell us which fields have cows with calves, bulls with rings thru their noses or remind us to charge the battery, / remember charging pack, but we love it!
The day was saved by a wonderful drive back to camp and a trip down memory lane.
Rather than just run for home and the bottle , (and who could have blamed us,) we decided to go for a drive along the B6278 from Eggleston near Stanhope to Middleton in Teesdale. The village Middleton , is interesting in itself, but most memorable to us for being the place we stayed over night on our way to Roger's November meeting at Berwick on Tweed, 4 years ago. It was there we woke to the news Mr Trump was elected as President of the Great U.S of A. Total disbelief! However, we didn't think we could hang around until this November for a re-run, even if it will be one of those moments …"Where were you when Trump caused a riot over the Presidential election results and rubbished American democracy. " The result this year is likely to be truly memorable, one way or another.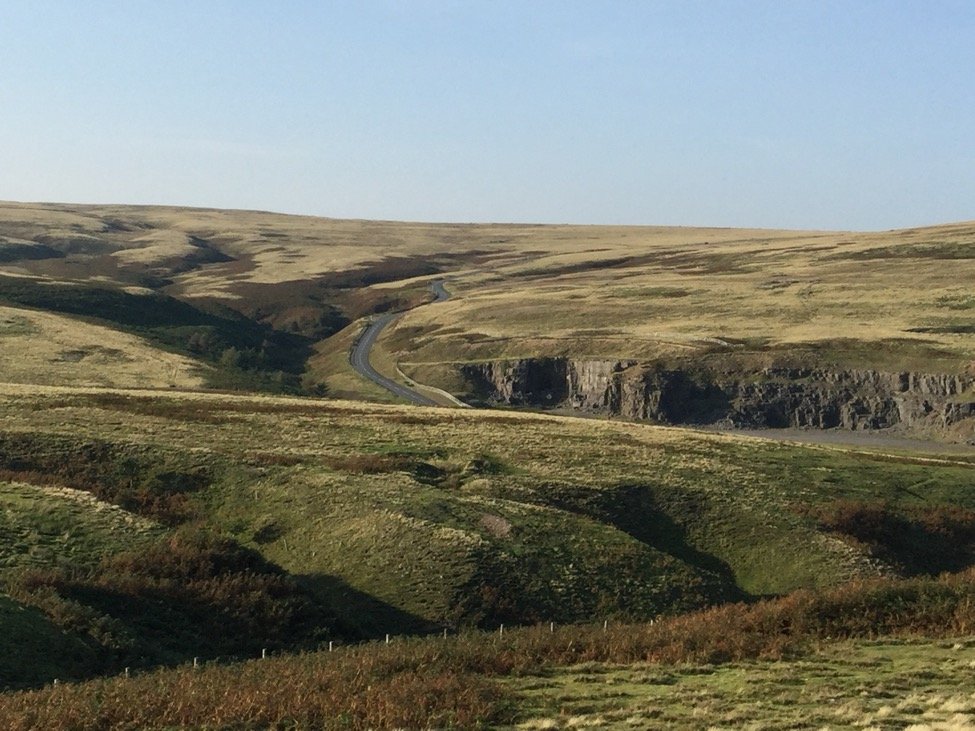 The B6278. absolutely a 'must drive' for anyone over that way.
Having had great weather , it started to rain…
Well then, time to move off back South and embark on our next bright idea for the next Lockdown. We have decided to grow /make a living willow arbour! Great for something to do in those winter months in the New Year.
So we leave the north to go down into Somerset to the Willows and Wetlands Centre near Taunton to do our research. https://www.coatesenglishwillow.co.uk/pages/visitor-centre.htm
As we rarely rush, we stopped for a walk at Pooley Bridge, Ullswater to walk the dogs for an hour or two before we did the long haul down to Cheltenham where we planned to stop overnight at our lovely field, C.L site at Longmeade Farm , Prestbury . (" Hello Kate".)
This is yet another super site for walking. We clambered up the Cotswold Way, up over Cleeve Hill to look down on the Cheltenham racecourse. This is a 102 mile route from Bath to Chipping Camden, not one we have explored, but looks hilly enough to interest us as it runs along the Cotswold edge escarpment . Something else to do this winter!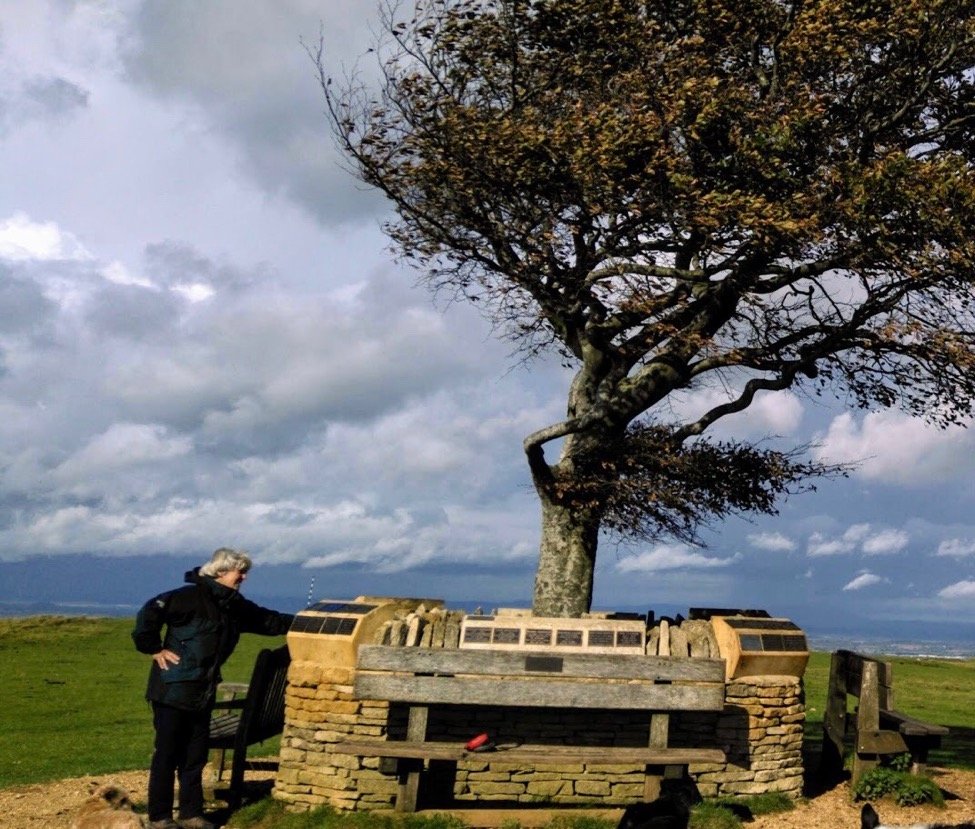 The Memorial wall high on top of Cleeve Common with its single Beech tree.
And so the Grand Tour comes to an end.
From Le Grand Depart to La Flamme Rouge, we can honestly say we enjoyed every minute (well almost) and all in all had a marvellous time.
We finish where we began wondering what to do if we can't go abroad due to Lockdown restrictions.
"Well, you can't, Covid, okay?
So now we start listing work needing doing, … paint the kitchen cupboard doors, renew some of the woodwork on the raised beds, plan a few 'Trails" to walk when the weather allows,etc. No good killing a turkey for Christmas so we can invite 30 people over for the funeral…everyone's got that message.
Or?.. Plan Another Grand Tour!