This post has already been read 327 times!
Hartlepool , The Way of Love and The Way of the Sea.
Now you may think it a bit strange linking Hartlepool and 'The Way of
Love' together in the same sentence, but Hartlepool Headland is where our story begins… and Hartlepool itself does have lots of interesting, if not strange history.
And while we're at it, if you were thinking love = romantic , well not quite that sort of love, more the devotion sort of love …you must have been thinking about that famous Hartlepuddlian …Andy Capp and Flo. Ha!
http://www.thisishartlepool.co.uk/history/andy_capp.asp
While Liverpool has the famous Beatles sculpture on its historic waterfront, Hartlepool has chosen to capture a chauvinistic, idler in a cap, for a bronze on its historic Headland. (But then again Dundee has chosen to give Desperate Dan and Minnie the Minx a focal point on its High Street.)
Not too many people queuing up here for selfies.
Next strange bit…Dual sex monasteries. "Step back in time to Anglo-Saxon and Norman England and this region was front-page news: some of the ground-breaking goings-on in the Christianisation of England happened hereabouts. One of the most famous of the country's dual-sex monasteries was set up at Hartlepool, with the second abbess, St Hilda, going on to head up one of the Anglo-Saxon world's premier religious centres at Whitby".
Even old King Canute managed to turn up hereabouts in 1020 doing a barefoot pilgrimage. (The 'turn back the tide' chap…Bosham…where we all know now the tide comes in …then goes out …all by itself).
Oh and later there is the tale of…the fornicatrix.
Perhaps it really is the way of love.
Next strange bit… People from Hartlepool are known as ' The Monkey Hangers' and elected a monkey as their first Mayor in 2002.
Remember ? Stuart Drummond… H' Angus the monkey, football mascot " free bananas for all schoolchildren" . They actually elected him three times in a row until 2012 when they clearly decided enough was enough. https://en.m.wikipedia.org/wiki/Stuart_Drummond and they then disposed of the mayoral election system.
It all started in the Napoleonic wars when a monkey got washed up on the coast and local fisherman not being familiar with what a Frenchman looked like, thought he was a French spy. Having interrogated him and not understood a word he said, they hanged him. To be fair, the monkey was the ship's mascot and was dressed up in a little sailors uniform.
Hartlepool does however have more serious naval history in the bombardment of the town which was devastated by bombing from the Imperial German Navy in 1914. The German ships fired 1,150 shells into Hartlepool, striking targets including the steelworks, gasworks , railway, seven churches and 300 houses. Many civilians were killed and wounded and the raid recorded the first death of a British soldier from enemy action on British soil for 200 years. This attack was a significant part of history because of the attack on civilians causing an outrage, where upon calls were made for the ship's Captains to be tried as war criminals. All recorded on war plaques and information boards on the Headland.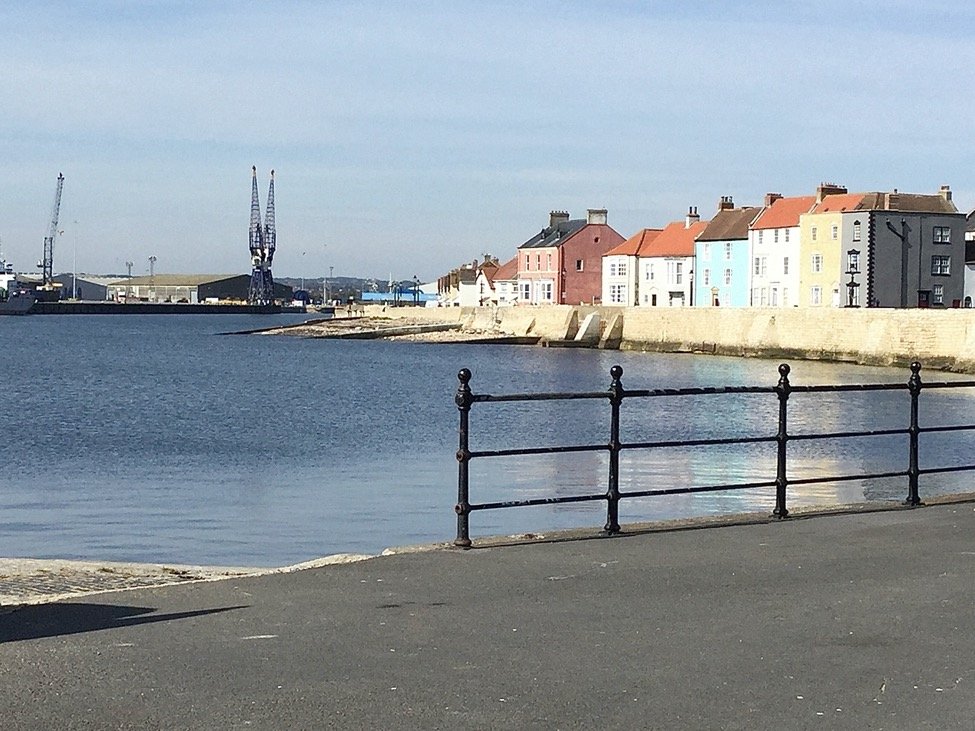 A view across from the war memorial plaques looking over to the port, Historic Quay and the National Naval Museum.
And so onto 'The Way of Love Trail' starting at St Hilda's church. It is about 28 miles long in all, but we only walked 6 miles from here to St Mary Magdelene church in the village of Hart.
The Trails are called 'Ways' because this depicted the Christian faith.
They all led to Durham recognising the significance of Durham Cathedral as a destination for pilgrims for centuries.
We sat here in the small park in front of St Hilda's eating our baps. We had after all walked five miles to get here hence why we only managed 6 miles of the actual Trail back to St. Mary Magdelene Church at Hart !
The Trail heads off along the seashore where the tide mark is black with coal.
Quite weird. Under the North sea there is a seam of coal that twice a day , dumps tons and tons of it, on the North shore. Collecting it, known as 'seacoaling ' became a local pastime and way of earning a living for some.
Moving inland, the distinctive Northern Saints Trail way markers.
As we walked along a track behind some houses towards Hart village a disembodied voice said "you are being recorded on video camera".
Mmmmm. Hartlepool 's own 'Track and Trace'. (Dido , take note)
Hart Village and the church of St. Mary Magdelene . An old Saxon church dating back to 675 AD. Pretty old by anyone's standards although it has been much restored.
Oh yes…the wee tit bit …the tale of the Fornicatrix.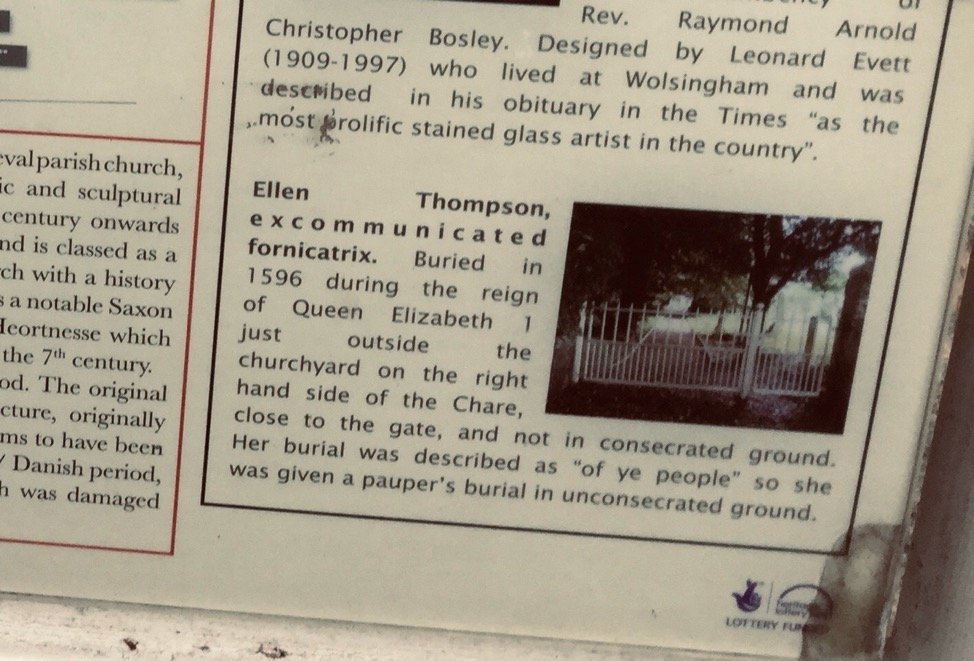 Looks like she also lived 'of ye people'.
Who ever would have thought all this of Hartlepool…and with our pitch on the Crimdon House Farm site right on the England Coastal Path and Northern Saints Trail , it really is a 'must visit' place…clearly.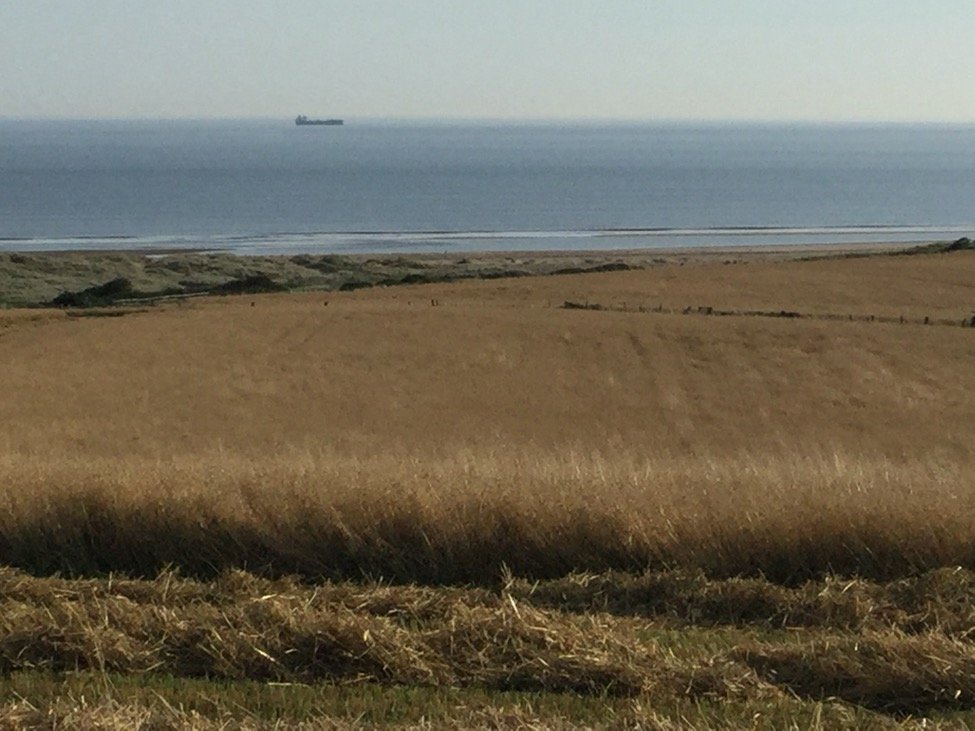 The view from the van out to sea, with several footpaths together with the Crimdon Reserve Circular walk .
Morpeth and The Way of the Sea.
Next we moved on to a Caravan and Camping site in Tranwell Woods, near Morpeth , county town of Northumberland. A good site on an open field with new facilities, showers, toilets, washing up, but no electric.
Morpeth itself, looked a bit of a posh sort of place. Famous for having the only bagpipe museum in England and where Emily Wilding Davison, the suffragette who threw herself in front of the Kings horse in the Derby 1913 , is buried. A castle, river and pretty parks. We actually only visited Pets at Home and Morrison's as we were still doing 'avoiding the human race ' and not the tourist stuff.
And so onto the 'Way of the Sea' where it is a bit unlikely that the Trail was really a walking trail for the early pilgrims, as it would have been at that time , a rough and rugged coastline. Even Holy Aidan of Lindisfarne fame went by boat along the coastline bless him, as did some of the early pilgrims. So literally a way of the sea rather than the walking route we know today that tracks the England Coastal path.
Wendy followed it along Druridge Bay , a 7 mile long bay on the North Sea stretching from Amble in the north to Cresswell village in the south, walking one way along the seashore and returning on the Coastal path back to the Druridge Country Park, where Lin had taken the opportunity to have a day off.
It was here we had to leave our Northern Saints Trails having really had just a taster. Ideally we were planing to go to Durham where all the Trails finish, but what with our continuing 'to avoid the human race ' bit, we didn't feel too inclined to venture there . Added to this many places we would have liked to have seen were still closed.
Any road up , all thoughts of this were firmly knocked on the head by little Mattie Hancock, sporting his lucky pink tie, in declaring more Lock Down for the North East.
We did however get to enjoy a visit to the N. T property at Cragside. A Victorian property near Rothbury. This was the home of William Armstrong, scientist , inventor, industrialist, arms manufacturer ( Armstrong Siddeley and Armstrong Vickers ). He was also a great philanthropist, particularly for Newcastle where he had his first main factory.
He was also responsible for restoring Bamburgh castle.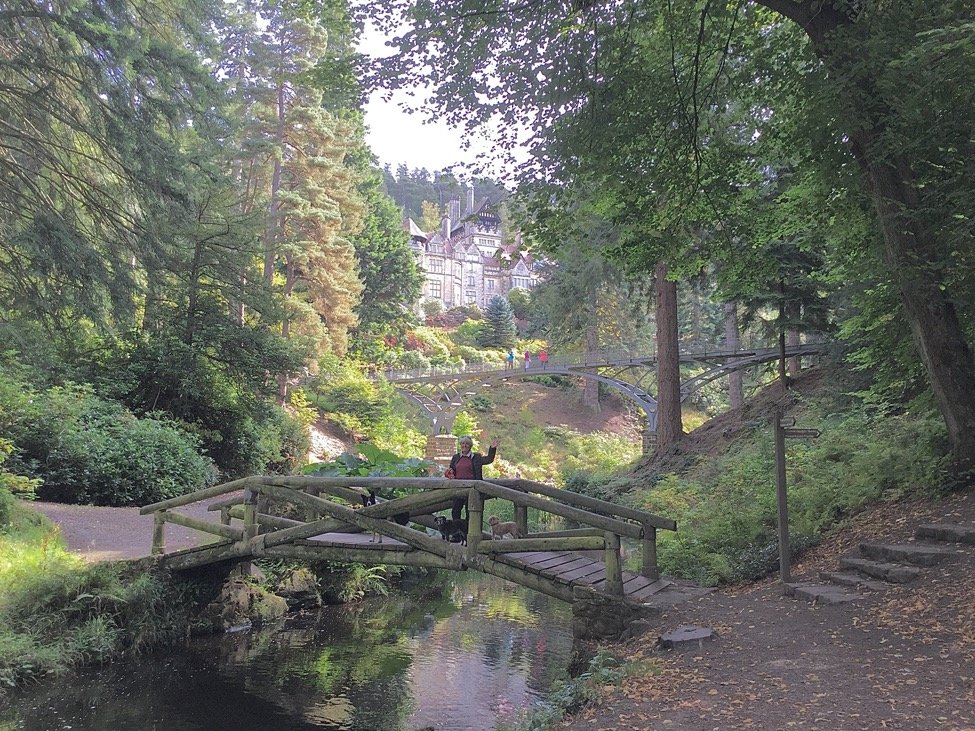 We liked the grounds which were great and the history of the electro hydro power etc. but thought that the house was a bit hotch potch and gloomy . Sadly we couldn't visit the pool and Turkish baths he'd installed , ahead of his time, because of space restrictions, but a good day out and we were lucky that this was the first day that the house was open to the public.
The present day T.V show host and singer, Alexander Armstrong who was born at Rothbury, is distantly related to William.
And on that Pointless note it is definitely time to move on.
Next we decided to head off across country to East of Carlisle and walk a bit of Hadrians Wall on the way.