This post has already been read 1892 times!
Colin Woods says: it took us one trip to realise that :
1. the bag for bedding that fits under the hanging wardrobe looked good but was too bulky and awkward for frequent use. We replaced ours with a Bags4everything made to measure bag. The zipped top, side handle, rip-stock nylon construction and compact size when empty makes the bag much more practical to use on a nightly basis.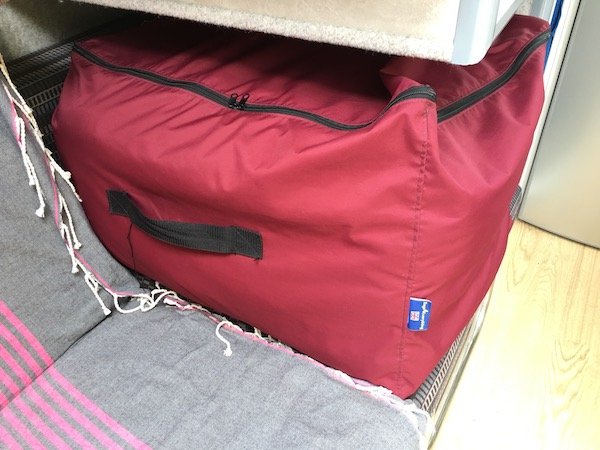 2. the free standing table supplied by Murvi that fits in the wardrobe was too big and heavy too remove from its fixings without irst emptying the wardrobe! In fact, the original table can only be removed diagonally through the wardrobe door opening, hence the need to remove everything hanging up or stored on the wardrobe floor. We replaced ours with a
Kampa Element Table Medium
  which is lightweight aluminium, has four independently adjustable legs and easily fits the vertical door opening so no need to remove anything from the wardrobe. I just had to adjust the little fixing blocks to accommodate the 6cm depth.